Microsoft FS 3 for the PC (1988)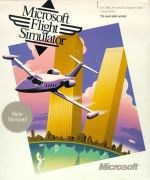 In 1986 subLOGIC released new versions of FS II for the Atari ST and the Commodore Amiga; Microsoft published a similar version for the Apple Macintosh. The new version sported a new menu system, multiple windows, outside views (tower, spot), a refined co-ordinate system, addition of a Learjet 25 and a multiplayer option. And of course an enhanced and expanded scenery with much better graphics. All possible because those systems were based on the new Motorola 6800 processor, which was far superior to the contemporary PC. Because of its third generation functionality it should have been called Flight Simulator III. Users of PC's however were left behind with their old 2.1x versions.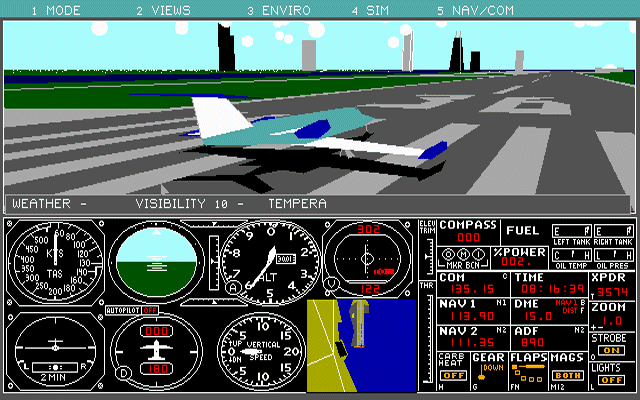 Learjet ready for take off at Meigs. Mark the "clouds".
Finally in 1988 Microsoft caught up with the release of a new version 3.0 for the IBM PC and compatibles. This was clearly based on the version for the Amiga and the Atari ST, with the same, but slightly enhanced user interface and functionality. Together they form generation 3 of Flight Simulator. FS 3.0 made full use of the 16 colour EGA graphics of that time. However it did not make the impact it probably deserved to make, because most PC's still had monochrome displays. This time users of the other types of computers were left in the dark as their version turned out to be the last for their systems. Except for the Apple Macintosh that would eventually see a copy of the next version 4.0!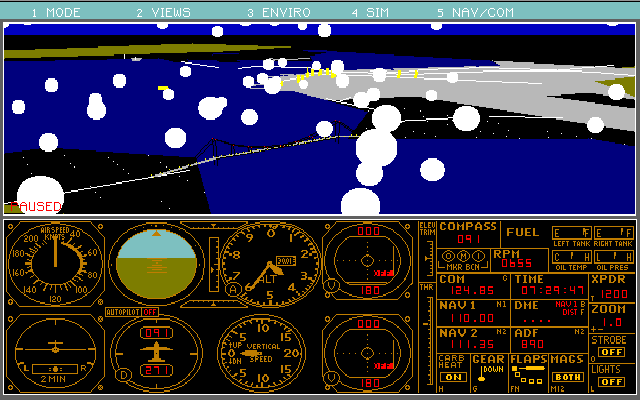 San Francisco - Golden Gate bridge at night. No this isn't snow, but clouds!
Obviously it shouldn't be necessary to use an emulator for a real, be it DOS-based PC-program. At least under Windows 98 SE, FS 3.0 works without emulator. So there is no emulator download, only the program download and a download of the reference card. To please European pilots the download of FS 3.0 also contains the "Western Europe Scenery Tour" by Microsoft as a bonus.
Starting the program
Just unpack the FS 3.0 download file into a directory of your choice, double-click on fs3.exe and there you go. It only works full screen, but if you want to make a screen shot with <PrtScrn> you can use <Alt><Enter> to switch to a DOS-box and back. In which case the program freezes but continues after returning to full screen.
Latest revision: 30.03.2005