Latest news
April 2, 2005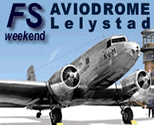 In the weekend of April 16 and 17, 2005 a new Dutch Flight Simulator Weekend will be organized at the National Aviation Theme Park Aviodrome at Lelystad Airport. This years theme is DESIGN: Aircraft, Panels, Repaints, Scenery etc. FS History and The Old FS Vault will be there too! With a new video about the development of Flight Simulator over the past 25 years, new posters of most old versions and the possibility to (try to) play many of the old versions on a current Pentium. We hope to see you too!
If you want to know more about previous Dutch Flight Simulator Events, please visit the pages about Flight Simulator History in The Netherlands. With reports of all previous events (starting ca. 1990!) and participating organisations (FSFAN, DFSO, FSGG, ...) and persons. Most pages in Dutch, but the pictures speak all languages. Some pages (e.g. about FSFAN) in English.
March 30, 2005
A small facelift for the Old FS Vault, adding a new logo on top and correcting a few errors that had accumulated. Corrected the links to the main Flight Simulator History website to reflect the new domain on simFlight. Changed the link to the second concept of our FS History video (see Introduction page). A complete version of this video, including FS2002 and FS2004 will hopefully be ready before mid April.
March 19, 2005
Added black and white MSFS 1.0 for the (old) Macintosh (1986) in a small and elegant package with the MinivMac emulator. Thanks to Davide Rovagnati from Italy and Hubert Born form Germany. The later MS FS 4.0 for the (new) Macintosh (1991) will hopefully follow soon.
October 26, 2004
Finally MSFS 5.0a has been added in 2 versions: a one-to-one copy of the original floppies and a version together with the DOSbox PC-emulator which enables you to rum it under Windows XP. Some new docs and reference material has been added. I am still working on some more downloads, including better versions for the Commodore 64, Atari ST and Amiga.

March 10, 2004
In the meantime several new old versions have been added: MSFS 3.0, MSFS 4.0 and FS II - MSX. For other versions some new docs and reference material has been added. I am working on some more downloads, including the versions for the Commodore 64, Atari ST and Amiga.

January 10, 2004
The first and latest news is that the first draft of this website has finally gone public. With quite a few downloads of the old versions, starting with the early versions for the Apple II (1979) and TR-80 (1980). And with quite a lot of docs and reference material. Hope you like it. If there are any new facts or download, they will be mentioned here.
And let me know if something important is missing: mailto:joscmg@xs4all.nl
Latest revision: 04.04.2005