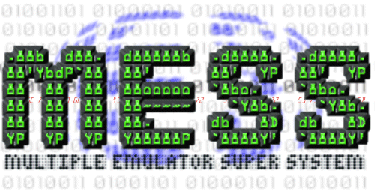 The MESS collection
Yes, we made a MESS of it! When I started The Old FS Vault in Jamuary 2004, I had a few considerations. like: the old versions should be able to run under MS Windows (98-XP) on a current Pentium 3 or 4 PC, so providing a well known user interface and easy standard facilities to make screenshots or record a flight video.
I already had a few emulations available (TRS-80, Apple II, FS 3.0), most of them from Johan van Cranenburgh's nice website SIMTAKEOFF. A few months surfing on the Internet, especially on the "Abandoneware" pages did the rest. At that time I got great support from my German FS friend Hubert Born, who supplied me with a number of emulators, including the associated FS disk-images. For every other type of computer we needed a different emulator. You can still find a lot of them on the individual download pages.
Sure there was also MESS (Multiple Emulator Super System), which was supposed to emulate any and all types of processors. But most of the emulations in the then available MESS version still had their own problems, making them less suitable to use it as a general solution. Since that time (mid 2004) there has been a lot of development with respect to MESS, making it ever more a general solution.
Then in June 2004 Marcus Thompson of Milehigh Productions sent me a message, in which he proposed to cooperate in creating a video about the "History of Flight Simulator". For that purpose he wanted to use the emulations from The Old FS Vault. However, for some platforms emulations were not yet available, others were not very adequate for this purpose (e.g. pure DOS-programs). Around that time I also got acquainted with Josef Havlik from the Czech Republic. Like Hubert Born he is a true collector of old FS versions, preferably with the proper associated processor. But for practical reasons like making screenshots he is also interested in emulator versions.
The three of us got together (although we never met in person) and we managed to create a nice little video, for which Josef supplied some of the missing emulators or made the emulator work. This small (34 Mb), medium quality video (as well as the separate clips of the various versions) is available for download at the Milehigh Productions website (see below). Later this year (2005) Josef and I decided to create another, high quality video, of which two versions are available for download, see below:

MESS and FS emulation
In the meantime there has been a huge development with respect to MESS. For detailed info see the official MESS website. Not all processors are yet emulated, but most are. And thanks to Josef Havlik, who created the necessary individual set-ups we can easily use MESS for most of our computer platforms. For more info see Josef's own Czech FS History website.
With the use of MESS we are now able to emulate some 13 different FS versions on 7 different computer platforms, notably: Apple II, TRS-80, IBM PC-CGA (MSFS 1.x and 2.x), Apple Macintosh Plus (1985-1986), MSX, IBM PC-286 (MSFS 3.0 and 4.0) and Tandy 1000.
For the other processors for which old FS versions are available (Atari 800 and ST, Commodore 64 and Amiga, Apple Macintosh (new Mac-FS 4.0) and IBM PC 386/486 (MS-DOS plus MSFS 5.0 and 5.1) but no MESS emulation is available we still have separate emulators. But maybe not for long any more, the number of platforms supported is still growing rapidly. These separate emulators plus instructions and docs can be found on the different pages.

Rules and restrictions
There are some rules and restrictions tare are to be taken into account when using MESS. Briefly, you can use the emulator MESS in accordance with following rules: the program itself is freeware and it is available on above shown homepage. For the emulation of each hardware platforms is necessary to have the original ROMs. These are copyrighted material and it is not allowed to distribute them together with MESS. But it is possible to download and use them in case you are the owner of that real computer platform.
Next you need the respective Flight Simulator program version in a specially prepared floppy disk or hard disk image format. Finally, you need to create a suitable setup for the MESS program itself. Most of that work has already been done for you (thanks to Josef Havlik) and is contained in the downloads. All you have to do is:
Download the special prepared MESS emulator (5MB) for Windows and unzip the file on the hard disk of your computer. The download contains the tested version 0.92 which includes set-up, screenshots and batch files (*.bat).


Download the necessary ROM files (they are very small) for the platform(s) you want to emulate: apple2e.zip, apple2ee.zip, atvga.zip, ibmpc.zip, macplus.zip, msx2.zip, pc.zip, trs80.zip and trs80l2a.zip. Copy them (do not unzip them) into a subfolder named "bios".


Download Flight Simulator disk images (6.5 MB) and unzip the file into a subfolder, named "software". Make sure you have a subfolder structure similar to the picture below.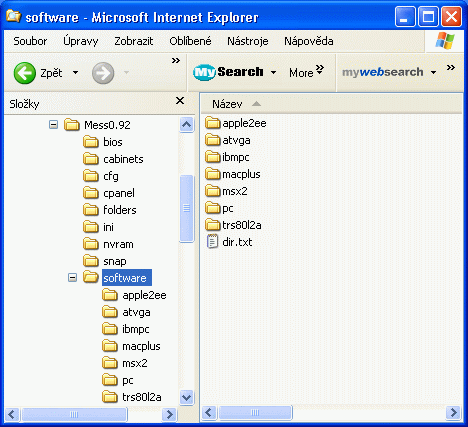 This at once will give you the following FS versions and subversions:
subLOGIC Flight Simulator 1 for Apple IIe

subLOGIC Flight Simulator 1 for TRS-80

subLOGIC Flight Simulator II for Apple IIe

Microsoft Flight Simulator 1.00 for IBM PC

Microsoft Flight Simulator 1.05 for IBM PC

Microsoft Flight Simulator 2.1 for IBM PC/XT (CGA)

Microsoft Flight Simulator 2.12 for IBM PC/XT (CGA)

Microsoft Flight Simulator 2.12 for Tandy 1000/1200HD/2000

Microsoft Flight Simulator 2.13 for IBM PC/XT

Microsoft Flight Simulator 1.0 for Apple Macintosh Plus

subLOGIC Flight Simulator with torpedo attack for MSX2

Microsoft Flight Simulator 3.0 for PC/AT (VGA)

Microsoft Flight Simulator 4.0 for PC/AT (VGA)

Instructions on how to run MESS
When you manage to complete the little puzzle correctly, you start MESS by running the "messgui.exe" file. If you intend to do this more often, you better create a short-cut on the desktop. When Mess is running, you can start each version of Flight Simulator by using the very user-friendly interface: see below. Or either you simply start MESS and the wanted FS version by running the corresponding batch file, which is available in a Mess0.92 folder.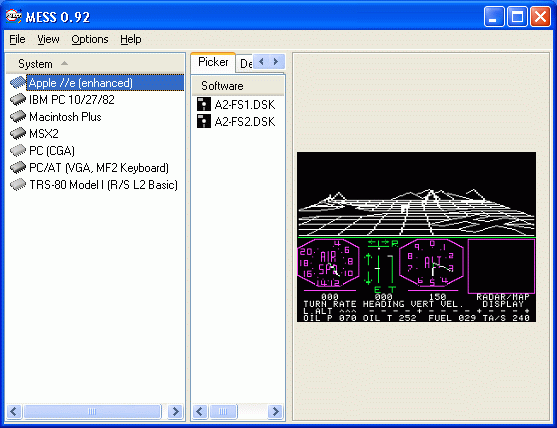 One important key is Scroll Lock, which switches keyboard control between the MESS user interface and Flight Simulator (it is especially important for Macintosh emulation). Be careful when you use this, as Flight Simulator itself also uses this key-combination to switch views. Best practice is to always push Scroll Lock twice!
Mess has a lot of other facilities like the option to make screenshots.

Instructions on how to run the Flight Simulator versions
For more instructions and references for running the different FS versions please read the relevant pages, where you will find links to key-reference cards, documentation and special instructions.

Latest revision: 03.11.2005