Copyright issues
Of course there are copyright issues involved. If I am informed correctly Artwick retained all Flight Simulator copyright when he quit subLOGIC in 1988 and founded BAO. When in 1996 Microsoft took over BAO, they acquired all FS copyrights too, including the rights to the old (subLOGIC) Apple, Commodore etc. versions. Since that time Bruce Artwick has been involved only as a consultant. I tried to do it the right way, writing letters to Microsoft for permission to put the old versions up for download. But none of them were answered. Yet they know who I am, as my FS History website is featured in their list of links. So it seems this is a non-issue for Microsoft.
Recently there has also been a movement to slacken the copyright on old versions of programs that are no longer sold nor maintained. The passing through of this type of program without commercial goals should be allowed now. Considering that the old versions have no real commercial value to Microsoft any more, but ever so more sentimental value to a lot of us flightsimmers, I went along with this download website. It is completely separate from my history site, as not to embarrass my generous host. I am not making any money from it, instead it has cost me enough. And I suppose that you will act in the same spirit, only downloading the odd version for your personal nostalgic flight in the blue or grey yonder of the old FS versions.
Credits
You can't set up a website like this without the help of a lot of people. I will mention them on the download pages where it's most appropriate. But I have to pay special attention to the two people who have helped me the most: Hubert Born from Germany and Josef Havlik from the Czech Republic. Both helped me with several versions and the associated emulators. I am sure that without their support and encouragement I would never have pulled through. So you probably owe it to them that this website indeed came through.
And of course I thank Miguel Blaufuks, director of simFlight, for providing the necessary web space and bandwidth needed for hosting both The Old FS Vault and the Flight Simulator History website.
I wish you many happy memories and much fun! To wet your appetite below an animated sequence from A2-FS1, the first ever release of Flight Simulator for the Apple II by subLOGIC in 1980. With already a 3D "view out of the window" on top of a simple panel. The world is also still a bit simple, so FS pilots had to have a strong imagination.
Your webmaster: Jos Grupping, Overasselt, The Netherlands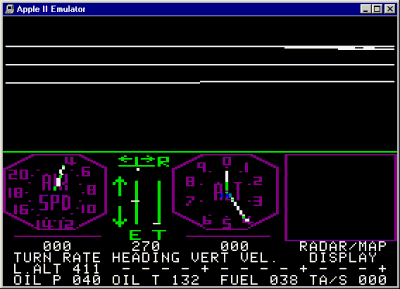 Animated sequence of pictures from FS1 for the Apple II (1980)