The History of Flight Simulator according to Microsoft
FS 1 and 2 for the IBM PC
Triggered by the great success of FS1 for the Apple, both the big IBM and a small software firm from Redmond approached SubLOGIC in 1981 to obtain an exclusive license on a version of Flight Simulator for the new IBM PC. Eventually the young entrepreneurs Bruce Artwick and Bill Gates found each other because, as Artwick stated: "I decided to go with Microsoft because of its nice small-company atmosphere (sic!)."
Once again Bill Gates proved his fine nose for important developments and put all his marketing skills to make FS a success. Could anybody have thought that it would become such a boomer? Incidentally, Bruce Artwick already had a new version almost ready, this time based on a real airplane and real world scenery. "All that remained to be done" was port it to the new IBM PC, which wasnít easy because of the poor graphic functionality of the first PCís compared to the other microcomputers on the market. So, if you ask Microsoft, the history of Flight Simulator starts in 1982!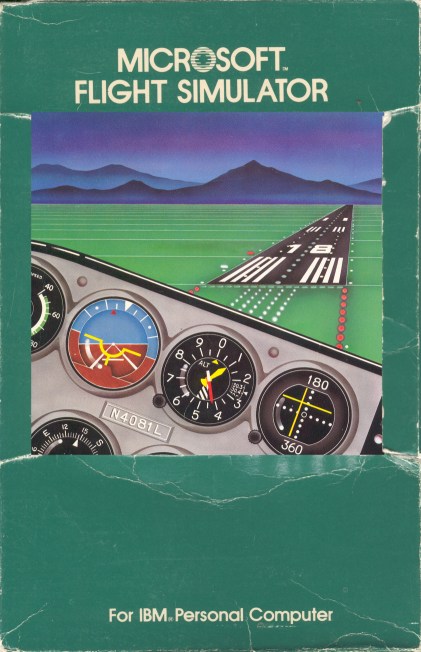 Thus in November 1982, Microsoft Flight Simulator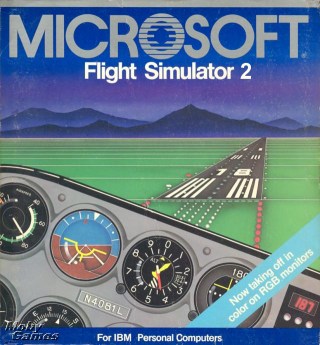 1.00 hit the shelves as one of the pioneering entertainment titles. Soon it became one of the most sought after software for the PC and after nearly 20 years it still is. It even made the Guinness Book of Records. Over 20 million copies of FS 2000 alone are reported to be sold. It is also safe to say that the applicationís demanding hardware needs actually influenced the landscape of computer development and sales. A kind of race started between FS and the PC: every new version of FS demanding more than the current PC-model could deliver and every new PC-model and graphics card offering room for enhancements of FS.
Saying that (Microsoft) Flight Simulator started in 1982 makes some sense in the way that this version, other that its Apple II/TRS-80 predecessor indeed has most of the characteristics of our present day simulation, albeit of course much simpler. As you can see from the picture below, version 1.01 already features a display as we still see, with a window to the scenery above and the panel beneath.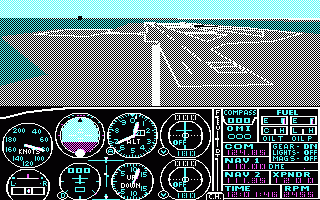 The panel even looks like the current standard Cessna panel. It contains 8 round gauges for airspeed, attitude indicator (artificial horizon), altimeter, turn coordinator, heading indicator (gyro), rate of climb indicator and tachometer (rpm). In addition it offers control position indicators, a magnetic compass, fuel and temperature meters, gear indicator, clock, NAV and COM radio and a transponder. A current day FS-pilot would immediately feel "at home". The only things that are really missing are ADF/DME equipment and an autopilot and GPS. But were these already normal on all real planes at that time?
The scenery, although limited to 4 areas (Chicago, Seattle, Los Angeles and New York/Boston) depicts a (simple) presentation of the real world, based on an ingenious coordinate system, developed by Bruce Artwick. The scenery contains some simple buildings, bridges and other objects like the Statue of Liberty and the Space Needle. Some 20 airports are included with correct navigation aids (VOR, OMI) and ATIS and some runways are equipped with an Instrument Landing System (ILS).
The simulation can be made even more realistic by setting environment factors as time of day, season, clouds, wind and turbulence. The number of aircraft characteristics considered in the calculations has been increased to 35. The aircraft modelled is a real life Cessna 182 with retractable gear. Is there really anything new under the sun of our current version? The introduction of the very good 100 page manual rightfully speaks of a second generation, real time flight simulation.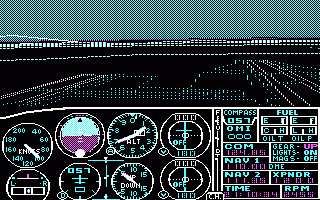 In version 1 the view was limited to straight ahead or down (radar) view, both with the possibility of zooming in and out. An outside view (spot plane, tower) is not yet present and of course the measure of detail is much less than today. In later versions you can view around in 8 directions. The very first version supports 8 color CGA, although the simulator was very flyable with a b/w monitor.
Itís truly amazing how the sorcerers of SubLOGIC could get that all working within the constraints of a first generation 4.77 MHz IBM PC with 64K memory and a 360K floppy. Compare that to our present day 1,5 GHz Pentium IV with 512M memory and a 60G disk!
Also included in the package was an expanded version of the "British Ace" WW1 fighting game. already present in the very first FS for the Apple II and TRS-80. No less than 6 enemy fighters, amongst which 3 Fokker planes, try to prevent you from bombing the enemy factories and fuel depots.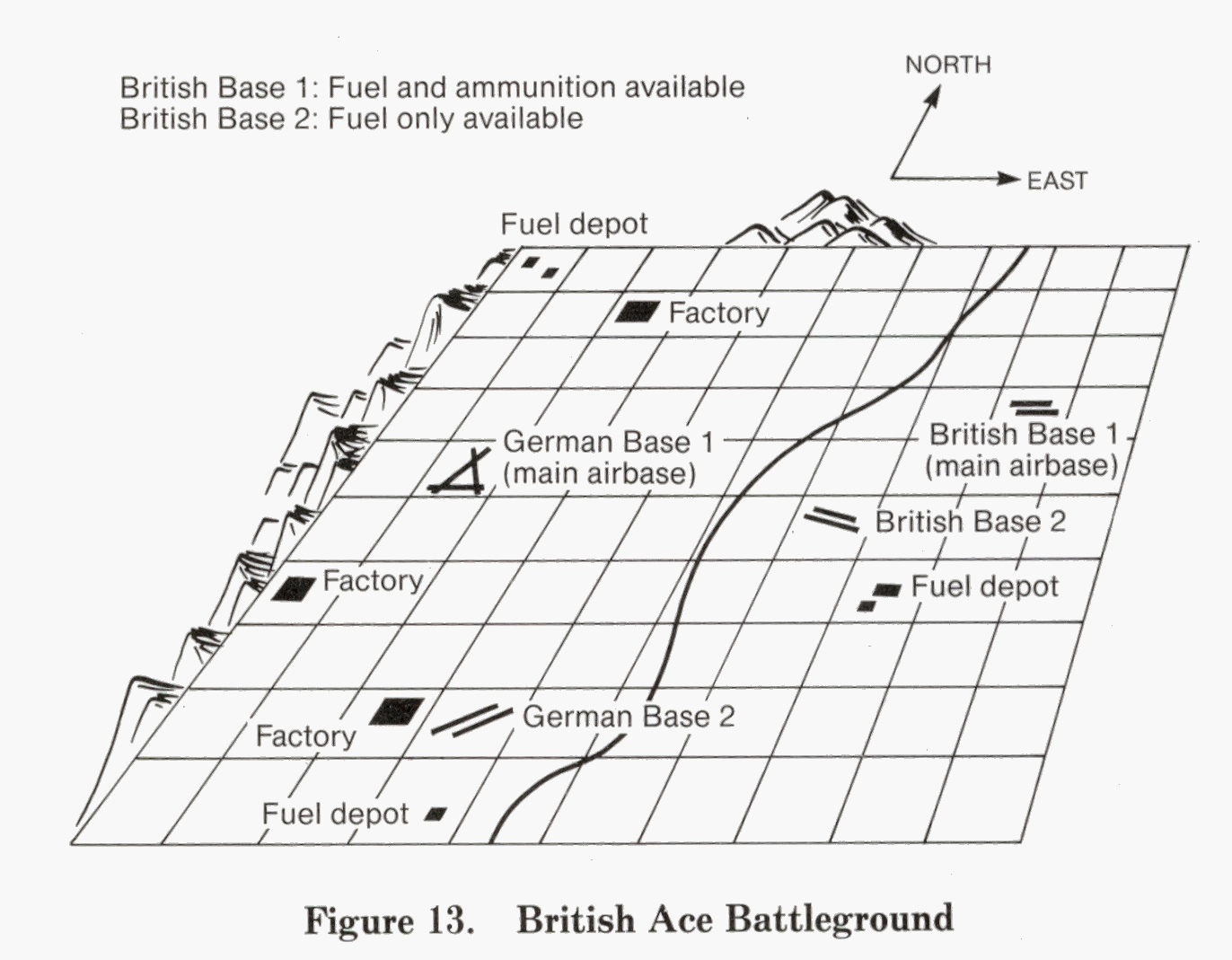 In a rapid succession new releases were brought out by the Microsoft/SubLOGIC tandem, each offering new or improved functionality and bug fixes (yes, in that time too). See the table below.
version 1.01

Nov 1982

version 1.05

May 1983

the ILS, VOR functions work in the clouds

the outer markers range is increased by 1.5

pressing CTRL+ALT+DEL reboots the machine

version 2.10

May 1984

version 2.10a

Aug 1984

PC-AT (286)support

six missing airports in Chicago area added

dynamic wind speeds corrected

version 2.12

April 1985

Hercules Graphics and EGA (mono/16 color) support

but no mouse support with these cards

out-the-window view in 8 directions

in total 80 airports included

version 2.13

Aug 1986

enhanced keyboard support (F11, F12)

support for 3.5" floppy disk drives

support for DOS version 3.20

support for LCD (Liquid Crystal Display)

version 2.14

June 1987
Copied from the Microsoft Knowledge Base:
The development went more or less along the same lines as the development of FS II (see there). In the later versions more (80) airports were present, more colors and out-the window view in 8 directions. As far as I know no spot-view. However because of limitations in memory, speed and graphics of the PC, the latest versions of FS II (1987) for the Amiga, Atari ST and the MacIntosh were superior in many ways. In fact those versions were already almost the same as the yet to be released Microsoft FS 3.0 (1988).
Further reading: "Information Manual and Flight Handbook MSFS 1/2.